The "6th Annual World Patient Safety, Science & Technology Summit" was held in London from February 23th until Februrary 25th 2018. The event is organized annually by the Patient Safety Movement. The meeting in London was co-organized by the ESA, the European Society of Anaesthesiology. With the goal to reduce the number of preventable deaths to ZERO by 2020, the Patient Safety Movement was founded by Joe Kiani in 2012.
This years meeting brought togehter international hospital leaders, medical and information technology companies, the patient advocacy community, public policy makers and government officials, from 25 nations. Besides others, Bill Clinton, the 42nd President of the United States of America, presented a keynote. During the summit approaches on how to reach the joint goal of ZERO preventable deaths by 2020 were discussed.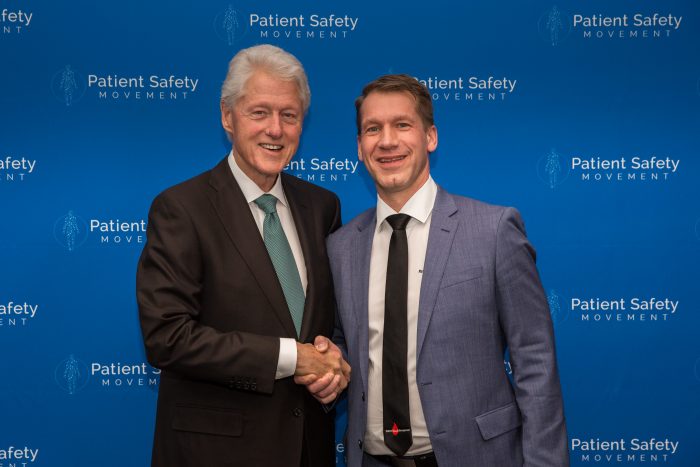 The potential of Patient Blood Management to contribute to this goal was already identified in 2016. The presentation of the Humanitarian Award to Prof. Dr. Dr. Kai Zacharowski in the same year was the onset for a close and ever-growing collaboration. For instance,  Prof. Dr. Dr. Zacharowski and Prof. Dr. Meybohm took the chance and founded the World PBM Network during the "5th Annual Patient Safety, Science & Technology Summit" held in the USA in 2017.
During this year's meeting, Prof. Dr. Dr. Zacharowski reported on the number of lives that can be saved by implementing Patient Blood Management. During his talk he presented numbers and closed with a invetation of the audience to participate in the World PBM Network. The presentation is available for replay by clicking on the image to the left. In order to view the presentation, please select "filter by saturday" and click "Chapter 5: Commitment Announcement: University Hospital Frankfurt".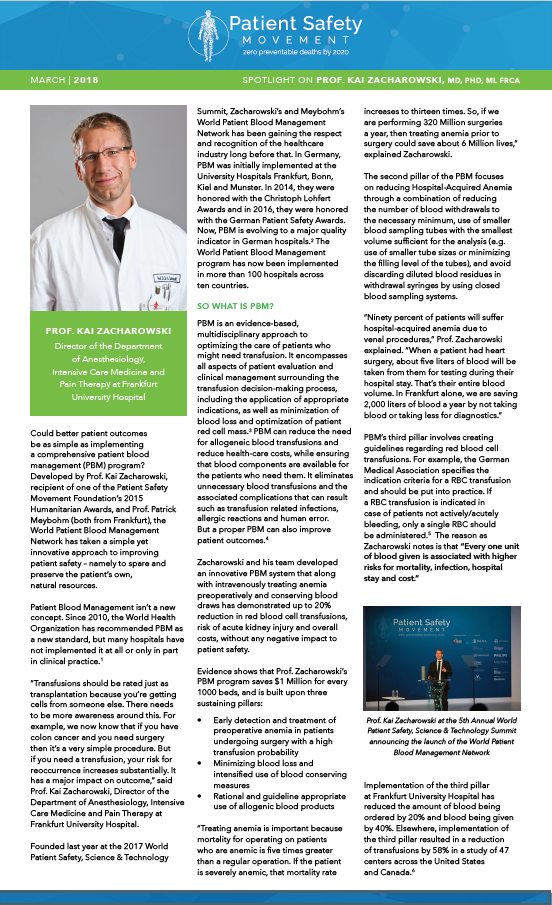 Further details on the collaboration between Prof. Dr. Dr. Zacharowski and the Patient Safety Movement are given in a spotlight in the recent newsletter published by the Patient Safety Movement. Please click the image to view the full text.