Despite the nice weather, nearly 300 participants attended the "Global Symposium Patient Blood Management", held in the Hörsaalzentrum of the Goethe University Frankfurt on March 24th 2018.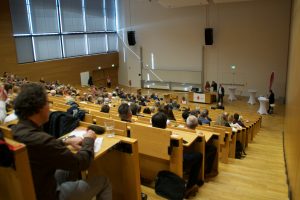 Following the opening ceremony by Prof. Dr. Dr. K. Zacharowski, internationally renowned PBM experts presented informative, exciting and entertaining updates on the implementation of PBM in various countries around the globe. For instance, while Prof. A. Shander talked about news from the United States, Prof. T. Richards and Dr. A. Klein presented on the national PBM quality standards of the United Kingdom. Prof. G. Liumbruno gave an update on a new law passed in Italy, obligating Italian hospitals to implement PBM. Prof. B. Froessler, who came all the way from Australia, gave a lecture on the successful national PBM initiative and the related study including data of more than 600,000 patients.
To appreciate the efforts undertaken to improve the implementation of PBM globally, all international PBM experts were awarded with the "International PBM Implementation Award" by the Global PBM Network.
After lunch, the early afternoon program was focused on the German PBM Network. In an introduction, Prof. Dr. P. Meybohm talked about structure and advantageous of becoming a member of the network. Later on he described more recent developments and future plans. In the following, three speakers from different PBM hospitals presented on their positive experiences, challenges as well as success while implementing PBM within the German PBM Network.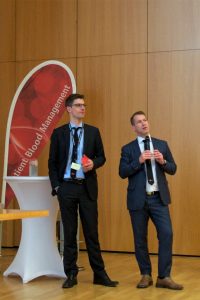 To appreciate the outstanding efforts, all three speakers and their associated hospitals (Dr. Kerstin Große Wortmann, Herzogin Elisabeth Hospital Braunschweig; Dr. Patrick Stark, Mittelmoselklinikum Zell; Dr. Josef Thoma, Ortenau Klinikum Offenburg-Gengenbach) were presented with the "German PBM Implementation Award".
The afternoon talks were finalised by exciting presentations on PBM as seen through the eyes of the controlling and the patient advocate, respectively.
Following this, a panel discussion with representatives of different medical fields (surgery, anaesthesiology, transfusion medicine), health insurance, patient advocate and controlling took place. An important topic discussed was how to improve approval and funding of PBM by health insurances. It was agreed that PBM is an important part of patient care, making further steps for an improved implementation mandatory.
At the very end, hospitals and members of the German PBM Network were awarded with PBM certificates. The certified hospitals are shown in our digital PBM map.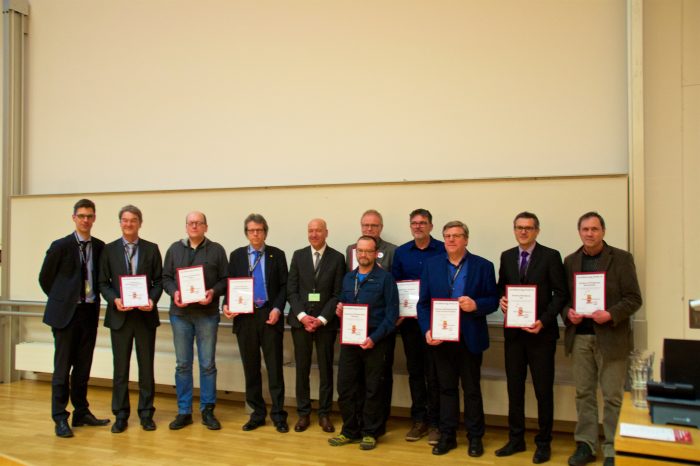 We are happy, that so many national and international guests were part of the symposium.